I took a trip to our local Goodwill today and as usual was not disappointed. I found some wonderful stemware and can't wait to set a pretty table with it. I haven't had time to make photos yet, so that will be for another post.
Summer is here and I have a stack of books that I've put aside to read. It seems as if I've been so busy reading all my favorite blogs lately and haven't found time to start any books, but I do love those summer days of lounging on the beach with a good book in hand.
My love of reading prompted me to pick up this vintage pair of readers a couple of years back at an estate sale. I only paid $3 for the pair. They have the look of Hummel figurines, but they are marked on the bottom "Goldcastle - Made in Japan". They fit perfectly on my library shelf and they pass their time by reading some good books. See how the little girl is pointing to a picture in the book. I just love these little guys, don't you? And see all those books? They came from yard sales, GW, or flea markets. I never buy new books - there's too many good used ones out there if you take the time to look.
Look at those chubby little cheeks!
And I love how their clothing is just as detailed at the back as it is in the front. It's fun having them sit on my shelf reading all day long. They definitely belong on my list of "my favorite things". I imagine they're getting a little bored though - they've done nothing but read since the 1940's. If they could only get up and stretch.....
Linking to
The Thrifty Groove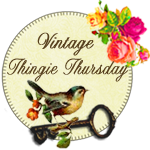 Vintage Thingy Thursday
Thursday Favorite Things,
Knick of Time