Although you can get these items from flea market and yard sale adventures from time to time, this is not where I got my two Victorian couple figurines. When I see these sitting in my built in bookcase in my library, I feel that I'm
traveling back in time
. It's a bittersweet story.
I came from a large farm family of seven children. We were not even what you would consider middle class income folks back then - but it was a rural area full of farm families and we didn't know we were poor. We thought we were so much better off than those families from the city who had to live in houses fifteen feet from their neighbors. There was certainly no envy - we would have never traded places even though their father's worked in better paying jobs than the average farmer. In our minds, we were wealthy - we had just as much as the person on the next farm (which wasn't much at all).
As the youngest child, I ended up being the last one left at home when my last sister married and moved out when I was thirteen. It was the year of 1961. She had bought the bedroom suit that was in the room we shared when she started working upon graduating from high school. And of course, she took it with her when she moved. By this time, our widower grandfather was living with us and had been given the bedroom suit that my sister and I had once used. I'll never forget how bare my little bedroom looked when mom and dad moved a small cot in there for me to sleep on until they could find some second-hand bedroom furniture. It would be soon, they assured me, but I can't really remember being bothered by the fact that I was sleeping on a cot. And finding a place for my clothes was not a problem since the few things I had (one dress for every day of the week) fit fine in my closet.
After a couple of months went by, my brother's wife came down one Saturday morning with paintbrush in hand and furniture and boxes in the back of her father's truck. They had no children to spend their money on and she was always doing little things for me. She sent me off to play outdoors and I could not come back in until she had things ready and in place. I don't how she did it - she was a petite young woman and I didn't think she even knew how to use a paint brush, let alone a hammer, but when I came back in that night, my room was painted the most beautiful shade of green. She had built cornices for the windows and painted those. With Dad's help she had hauled in the furniture which was a second-hand, but beautiful dresser, chest, vanity and bed. There was a new bedspread with pink and green flowers, new curtains, and knick knacks to sit around on my new furniture. It looked like the room of a princess - a room that in my wildest dreams I would have never expected to have.
A year later, my brother left his beautiful, childless wife and in her grief and pain, she cut off all ties to our family. My grief was strong too because I loved her like a sister. Many, many years later, we reconnected and were good friends again but it took me a long time to forgive my brother for taking Johnnie out of our lives.
The two Victorian couple figurines below and a few photos are all I have left of my sweet sister-in-law Johnnie. And the memories of what a dear, sweet person she was to orchestrate the dramatic change of my bedroom. I wrote her a letter later in her life to tell her what that one act of kindness meant to me. I think that's where my love of decorating started...and my love for Johnnie has never ended.
The man on the right is missing an arm, but I always pretended he was a gallant soldier and had lost it in a battle. These are marked "Made in Occupied Japan" on the bottom.
Do you have little pieces of your childhood you would never part with? I would love to hear about them.
Linking to
Very Merry Vintage Style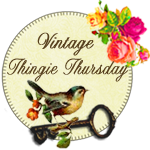 Vintage Thingy Thursday
Thursday Favorite Things
Knick of Time